Composing and sending Email
Composing an E-mail
How to Add Recipients?
E-mail Formatting
How to Attach a File?
Using Yoopya mail to send an email is easy.
1. In the start page, just click in Send email in the Quick links panel

2. In the inbox, Click on SEND EMAIL button

Enter the recipient of an e-mail can be made in more than one way. Using your keyboard to enter it manually or use your Contacts from address book.
Enter a recipient manually
1. Just type the name or e-mail address of the recipient into the To field. And Yoopya mail will automatically suggest entries from your Address book.
2. Then click to select the appropriate recipient.
Enter a recipient from address book
1 Click the Address book icon to the right of the recipient field (To). A pop will appear with a list of contact emails, select the right contact and Click on TO, CC or BCC button to add contact to the desired field and click OK button to confirm.
The HTML format is set per default and offers several options. With this e-mail format, you can design an e-mail as you like.
You can switch from HTML to text-only e-mail for an individual e-mail using format select form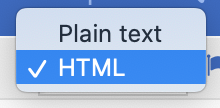 on the right top of the screen.
2. If you want to send a text-only e-mail by default, you can change it Settings section.
You upload attachments to an e-mail and send them to your contacts in two ways in Yoopya Mail. From your local drive or from YooDoc (Webdisk disk) .
1. Click on the paper clip icon in the right of Attachments field.
2. A popup will appear, to upload file from local drive (Computer), just click on Choose files button. If from webdisk (YooDoc), select web disk in the select field.

3. Click Ok to confirm file uploading
NB: You can select multiple files by holding the Ctrl key (Windows) and Command Key (Mac) and simultaneously clicking on a file name.